Ferries to France Operators - Cheap ferry France



---
---
Ferries to France
Hello & welcome to Ferries to France where you will find all the best online Ferry prices. Ferries to France includes prices on all Ferry France journeys with all the leading operators including; Sea France, P&O France, Condor Ferries, Brittany Ferries & LD Lines. Ferries to France guarantees that you won't find cheaper anywhere else so why not take a look now and find the package that suits you best !
Ferries to France - Cheap Ferry Options
Below you will find a selection of the best Ferry France operators, when choosing your Ferry to France you are faced with a vast selection of choices. Ferries to France will guide you to the very best prices and cheapest ferry deals.

Ferries to France Routes: Dover Calais, Portsmouth St Malo, Portsmouth Le Havre, Portsmouth Cherbourg, Poole St Malo, Weymouth St Malo.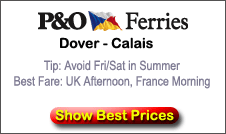 P&O Ferries to France
Here at Ferries to France you will find lots of P&O Ferry information and resources.

The company P&O Ferries was formed after Stena Line sold its 40% share in P&O Stena Line in 2002. P&O Portsmouth and P&O North Sea Ferries merged into the P&O Ferries operation and managed from Dover. Before the P&O Stena merger, operations from Dover, Felixstowe, Portsmouth and Cairnryan were all run under the P&O European Ferries name. P&O European Ferries was the name given to the operations of Townsend Thoresen in 1987 after the P&O group bought them out. In 1968 Townsend Thoresen was formed after Townsend Brothers Ferries combined forces with Thoresen Car Ferries.

TFor more information on P&O Ferries click here; P&O Ferries Ferry France or go straight to the P&O Ferry Website


---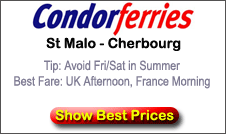 Condor Ferries to France
In 1964 Condor Ferries was founded by successful businessmen Peter Dorey and Jack Norman in order to challenge the conventional services operating between the Channel Islands and France.

Their first investment was Condor 1 an Italian-built PT50 hydrofoil. Passengers of Condor 1 were immediately impressed by it's speed and numbers soon grew in a two year period from 10,000 to 60,000 plus.

Condor launched it's all-weather, all-year-round traditional car ferry service in 1999 giving its customers complete reliability, including a back-up service when weather conditions prevented the fastest ferries sailing.

To read more about Condor Ferries click here; Condor Ferries to France or go straight to the Condor Ferry Website


---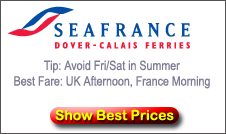 Sea France Ferries to France
Here you will find Sea France Ferry information and resources. Ferry crossings from the UK to France are as popular as ever due to the increasing demand for European travel.

Since the opening of The Channel Tunnel ferry boat operators have become much more competitive and and there are some truly fantastic fare bargains to be found.

Sea France operates a service between Dover and Calais with the scheduled sailing time being around 70 minutes (Sea France Ferries Rodin) or 90 minutes (all other Ferries).

Sea France Ferries objective is for passengers journeys to be as effortless and as enjoyable as possible. Children of all ages are accommodated in safe, spacious environments and during the crossing they can rest or have fun amongst the soft foam shapes, or, if they would prefer, they can sit quietly and watch some of their favourite TV shows.

Sea Ferry France is the only French operator between Dover and Calais and it's fleet of vessels currently consists of four ships including their new super ferry the Sea France Ferries Rodin which joined the fleet in November 2001.

To read more about SeaFrance click here; SeaFrance Ferries to France or go straight to the Sea France Website

.
Other Ferries
You will be able to find plenty of helpful information on this website relating to fast ferry to france ticket but if you should you be looking for a good deal on a ferry to Jersey you will also find useful information and prices here.

Or for ferries to Amsterdam why not try ferry to Amsterdam or ferries to Holland.
---
Home Page | Cheap Ferries To France | Ferry France | Condor Ferries | P & O Ferries | Sea France | Ferries to France